Anny Blatt Knitting Holiday

Knitting by the Sea with Anny Blatt
October 26-29, 2018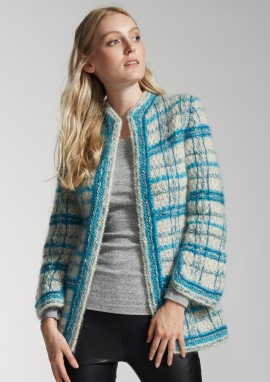 SIGN UP BY SEPTEMBER 26!
Enjoy 4 days at the luxurious Inn by the Sea in Cape Elizabeth, Maine, October 26-29, 2018. Relax in this coastal Inn and enjoy a beautiful New England autumn. The Inn by the Sea is nationally recognized for its eco-friendly renovations and is one of Maine's premier luxury beach destinations.
During our knitting holiday we will focus on one Anny Blatt knitting project. Two gifted teachers will guide you through the techniques required to complete the "Harvey'" jacket from Anny Blatt's most recent couture collection no. 225. Project skill level: advanced beginner to intermediate.
Location
The Inn by the Sea is located just 12.5 miles from Portland Maine's International Jetport and 115 miles from Boston's Logan Airport. The area is known for its famous Two Lights lighthouses, its pristine undeveloped beaches, bird sanctuary, spectacular ocean views, family farms and the unparalleled hospitality at Inn by the Sea.
Accommodation
We will be offering the choice of the newly constructed "Cove Suites" or "Traditional Guest Rooms." The "Cove Suites" offer a master bedroom with a king bed and a second bedroom with two queen beds. The elegant bath is customized with two marble top sinks, oversized bathtub, and separate shower. In addition there is a sitting area with fireplace, dining area which accommodates 4 persons, and a private outdoor deck.
The "Traditional Guest Rooms" are single rooms with king size bed and oversized bathroom with glass walk-in shower. There are no bathtubs in traditional rooms.
All guests have access to the cardiovascular and fitness center.
What is Included in the Anny Blatt Knitting Holiday Package
3 nights hotel accommodation
Welcome wine and cheese reception
Meals: 1 dinner, 2 lunches, 3 breakfasts
2 days of knitting instruction by internationally known knitting teachers
All pattern and yarns necessary to complete "Harvey" jacket, as well as other special instructional materials – valued at $600
An Anny Blatt on-site store with 20% off shopping all days of the holiday
Also available but not included in package
Inn by the Sea Spa
This state-of-the-art spa features a complete menu of massage and sea inspired treatments during your stay. The spa is offering extended hours for knitting holiday guests. Book your appointment a minimum of two weeks in advance of your stay. Reservation phone number is 207-799-3134.
Cost of Knitting Holiday
When we receive your registration we will contact you with payment options.
Single occupancy "Traditional Guest Room" $3350
Double occupancy "Cove Suite" $3,150
Triple occupancy "Cove Suite" $2,800
SIGN UP BY SEPTEMBER 26!
Space is limited to 30 participants. Registration is on a first come first served basis, as are the accomodations.
Knitting Instructors
Dayana Krawchuk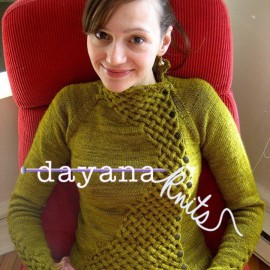 Dayana Knits is best known for providing knitters with an arsenal of tips and tricks to help them create beautiful and wearable knits. On her blog, she shows readers how to spot challenging parts in patterns, use different techniques for neater results and fix issues with fit after the knitting is done. A scientist by training, she started to knit to relieve stress during her doctoral studies in Genetics, and thinks she's probably stitched enough to get an honorary Ph.D. in knitting, too! Always a crafting daredevil, she remembers jumping from her first project of a garter stitch hat to an intarsia pullover with 5,000 ends. The more complicated the project, the more she wants to conquer it – and the more she wants to find ways for you to conquer it, too. Dayana says she gets asked all the time, "Do you think I can knit this?" and her answer is always a resounding "YES!" A seemingly overwhelming technique can always be made easier with the right tip or shortcut, she guarantees it.
Originally from New York, Dayana is now based in Bar Harbor, Maine and works in science communications for a non-profit research institute. You can find her moonlighting on her blog, Facebook or through e-mail: dayanak@gmail.com.
Cassandra Tonkin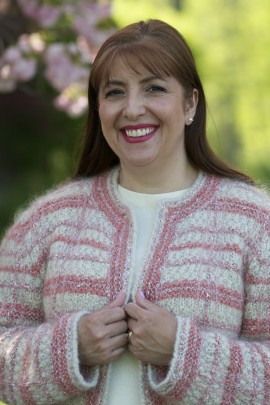 Cassandra Tonkin is Principal of LICARI, as well as an international knit-wear designer and knitting instructor.
Her aesthetic is unmistakably classic, expressed freshly and with confidence. Her women's knitwear collection offers elegant design, the simplicity of a focused pallet and rare, natural dyes with luxuriant combinations of cashmere, merino, silk and cotton. The result is sublime.
Cassandra has 2,384 online knitting students spanning 17 countries who seek to emulate her special brand of magic. She regularly teaches live classes in New York and Connecticut, and occasionally accepts commissions for her artisan pieces if the work is meaningful.
She is a second generation Anny Blatt knitter and native of Australia. Discover more here.